The Zita Johnson Memorial Fund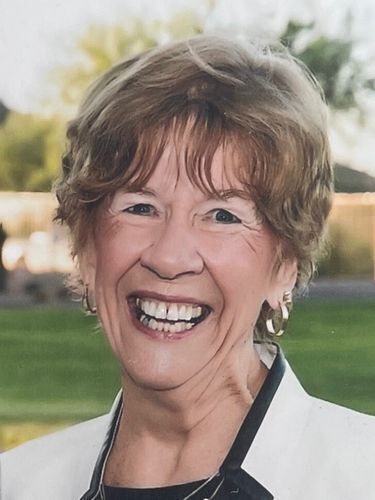 Zita's Obituary
Zita Mulligan Johnson was born on September 27, 1936, at Fort Snelling, Minnesota, and died at home in Tempe surrounded by her family on March 1, 2023, after a life of devotion to family, service, and leadership. She leaves a legacy of love, hope, and a commitment to excellence.
Zita's early years were spent in Omaha, Nebraska with her mother Mildred Mulligan while her father, Dr. Arthur Mulligan was serving in the Army during WWII.  After the war, Zita and her two brothers Mike and Pat returned to Brainerd, Minnesota where her sister Patricia was born.  Zita attended Brainerd High School and earned her BS at the University of Minnesota, where she discovered her passion for education.
On a New Year's Eve blind date during college, Zita met the love of her life, Pen Johnson, of Little Falls, Minnesota.  The two worked during the summers at Madden's Resort on Gull Lake near Brainerd.  After graduation, Zita and Pen married on September 6, 1958, and moved to East Lansing, Michigan where Pen was completing his studies. After Pen's graduation, the newlyweds moved to St. Louis, Nashville, and then to Columbus as Pen began his long and successful career as an Innkeeper.  Their sons Mark, Gregg, and Stephen were born during these years, as the family lived in the hotel's manager apartment.   These years moving all over the country, raising three little boys in hotels, and eating meals in the dining room was a busy and exciting time for Zita and Pen's young family. After moving to Denver, their daughter Jennifer was born in 1968.
Throughout her life Zita was an avid reader, enjoying fiction and nonfiction books on all subjects and devouring two newspapers every morning.  She was a news and information buff and had informed opinions on events all over the world. Pen will tell you that Zita Mulligan was thrifty at heart, caring for her family throughout her life by clipping coupons, collecting Green Stamps, and shopping the specials at four grocery stores every week.  She became an accomplished seamstress, making clothing for herself, Pen, her kids, and her grandkids as well as many memorable Halloween costumes and Christmas stockings. Although Zita was frugal, she was incredibly generous in sharing her time and talent with her family and community.
Zita continued her career as an educator at ASU, starting as the Assistant Director and Head Teacher at the Child Study Lab (CSL) in 1976.  She would continue to serve ASU for 18 years, taking on additional responsibility for CSL's education and research programs, teaching and developing undergrads to meet the challenges of the classroom, and doing what she loved most:  spending time with babies, toddlers, preschoolers, and parents.  During these years, Zita influenced the early development and education of      thousands of young children. After her retirement she was frequently approached by young adults all over town, who were eager to share that they were CSL alumni. Zita could always remember their names and their time as toddlers in the classroom.
During her time at ASU, Zita earned her Masters in Education Administration and was recognized with the ASU Alumni Association Staff Leadership Award in 1999. She published several papers in professional journals exploring the education and development of young children and was a presenter at many conferences and other events.   Zita would tell you one of her proudest moments was co-presenting a workshop on Early Childhood Education Community Collaboration with her daughter Jennifer at the National Association for the Education of Young Children Conference in 1999.
Zita recognized the challenges her community faced including poverty, racism, homophobia, hunger, addiction, and teen pregnancy. Zita deeply believed in the potential of all people to lead successful, productive, and happy lives.  Zita lived her values by jumping in and working hard to create change and to improve the lives of those around her.  Her approach was to first learn all she could about the issues, reading everything she could find.  Then she sought out people working in the field and spent time learning from those impacted. And then she got to work.  Her leadership style was a mix of respect, persuasion, and kindness, coupled with a drive to get things done. And get things done she did.
Seeing the challenges that low-income children faced, Zita volunteered as one of the first Head Start teachers in America, traveling into Denver to help prepare preschoolers and kindergarteners for a successful education.  Zita was a strong supporter of school integration, and the family participated as her boys were bussed to schools in the inner city. Before the term "anti-racist" was common, Zita spent countless hours bringing together groups to share Diversity Dialogues through the "Tempe Talks" program.  She led her community in celebrating the accomplishments of Dr Martin Luther King and served as a member and chairperson of Tempe's Human Relations Commission.  She coined the phrase "Together We're Better" and she made the slogan come to life in her actions.
Exemplifying passion for education, Zita was perhaps best known for her service on the Tempe Union High School District Governing Board from 2002 to 2012, including serving as President in 2004, 2007, and 2011.  During her time on the Board, she worked to establish the International Baccalaureate Program, the Peggy Payne Academy, and the Compadre Alternative High School, as well as many other curriculum additions for students of all abilities.  She was a steadfast advocate for Sex Education and worked during and after her board service to provide it in High School. Recognizing the challenges of teen parents who were struggling to both raise children and get a good education, Zita was a staunch and longtime advocate of TAPP (Teenage Pregnancy and Parenting Program). Since TAPP's inception countless young families have had the opportunity for a stronger start. Zita established the annual "Beat the Odds Scholarship" to enable teen parents to continue their education beyond high school graduation, and together with her family and friends endowed a scholarship for Early Childhood Development undergrads at ASU.
The list of Zita's service and leadership roles is extensive. Her 50+ years of community service touched multiple organizations such as Hospice of the Valley, Tempe Sister Cities, Tempe Homeless Task Force, and the Children's Museum of Phoenix.  Zita served on the Boards of Tempe Community Council, Tempe Centers for Habilitation, Tempe Leadership, Assistance for Independent Living, and Tempe Community Action Agency.  In recognition of her service, Zita was chosen for Tempe Leadership's Outstanding Community Leadership Award in 1997 and was recognized with the Don Carlos Humanitarian of the Year Award in 2001. Zita received the Women Who Make a Difference Award in 2003, and 2009 she was honored with the MLK Diversity Award from the City of Tempe.  In 2011 she was named a City of Tempe Legend by the Tempe History Society. Zita was also honored with the prestigious Barbara R. Norton Service Award in 2013.
Zita loved Tempe and her neighborhood and knew the importance of strong leadership in her community.  To make change, she served in campaign leadership and fundraising roles for candidates who supported the causes she felt were important. As a mentor, a board member of Tempe Leadership, and a volunteer at Sister Cities, she gave her time and talent in coaching and developing leaders of all ages.  
Most of all, Zita loved her family.  She and Pen were married for 64 years, and they had four children:  Mark, who died in 1998, Gregg, Steve, who died in 2013, and Jennifer.  Her daughters in law were very special to her:  Joan Widdifield, Nancy Johnson, and Joan M Johnson.  Zita was an adoring grandma of five:  Kate, Scott, Natalie, Colin, and Jennifer Mary; and a great-grandma to Stevie and Nick.  She was close to her sister Patricia and brothers Mike and Pat, and she had great love in her heart for her nieces and nephews and their families.  She was the center of her large, extended family, and always loving, present, and connected with her family members, no matter how far they were geographically. The warmth of gatherings in her home was only exceeded by the deliciousness of her recipes, many of which her children and grandchildren have adopted. She championed her family's accomplishments and showed up to celebrate milestones all over the country. Her love and support was always deeply felt by her children and grandchildren.
The Johnson family will join with the community in celebrating Zita's life on Friday, April 28 at 2:00 pm at the Tempe Center for the Arts.
If you prefer to donate by check, please make the check payable to Tempe Community Action Agency and note in the memo section "ZPJ Memorial Fund". Checks can be sent to 1208 E Broadway Rd. Suite 111 Tempe, AZ 85282