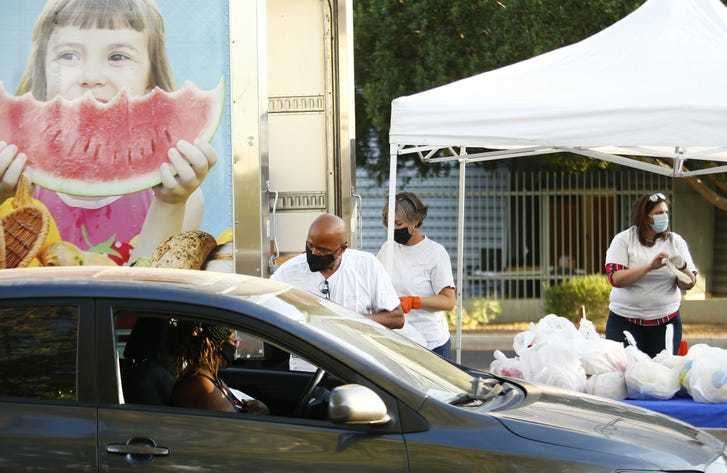 Cars lined up in the parking lot of the Escalante Multi-Generational Center in Tempe in mid-November, each receiving a box of Thanksgiving dinner supplies and one of 500 frozen turkeys.
The annual Turkey Fund Drive is just one of many services provided by Tempe Community Action Agency as part of their Senior Meal Program.
But this season, amid the COVID-19 pandemic, this event took on renewed importance as demand for food assistance grows and seniors in the community increasingly rely on their services.
Local organizations that support and serve seniors, including Tempe Community Action Agency, Foundation for Senior Living and Valley of the Sun Jewish Community Center, have stepped up to the new challenges presented by COVID-19 during the holiday season.
All three are among the more than 100 Arizona nonprofits supported by The Arizona Republic and azcentral.com's annual holiday giving campaign, Season for Sharing. 
Before COVID-19 hit Arizona, Tempe Community Action Agency served about 30,000 people every year across all programs intended to address emergency needs within the community. Since the onset of the pandemic, they have served 4,000 more, according to Director of Philanthropy Joe Rivera.
In the Senior Meal Program alone, their clientele grew from 108 to 189 seniors, a 75% increase, Rivera continued. The volume of their home delivered meals has more than doubled from 380 meals to 878 per week.
Tempe Community Action Agency met this increased demand with adapted programming, as COVID-19 shuttered their Escalante Senior Center and halted some events and services. They've swapped group dinners for home-delivered meals and food boxes. Their 25 volunteers collectively clocked 600 hours delivering food in October alone, Rivera said.
With the winter holidays around the corner, they've moved their usual festivities remote, dropping dinners off at seniors' homes alongside notes and goodie bags rather than hosting in-person gatherings.
Read on: https://www.azcentral.com/story/news/local/phoenix/2020/12/06/season-sharing-supports-arizona-nonprofits-helping-seniors/3763735001/