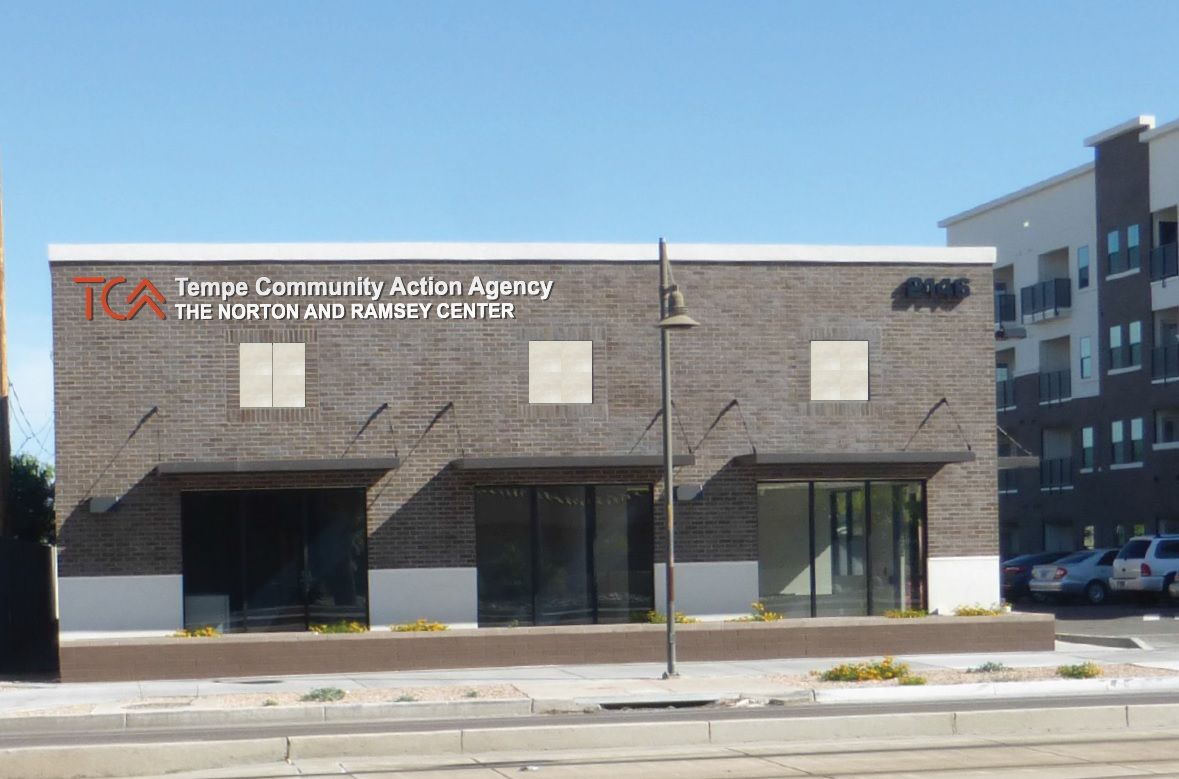 Ready to Provide Help to More People in Need
Building on its more than 50 years of service to people in need, Tempe Community Action Agency (TCAA) is opening a new office at 2146 E. Apache Blvd in Tempe. The recently completed structure is named The Norton and Ramsey Center in honor of long-time TCAA supporters Jenny Norton and Bob Ramsey.  The site hosts the agency's Emergency Services programs, Food Pantry, I-HELP (Interfaith Homeless Emergency Lodging Program) team and administrative offices.
TCAA's newest location offers many benefits for clients, community partners, and volunteers. The new site is located within the agency's original Escalante neighborhood, but its proximity to light rail makes it easier for more people to access assistance. The larger food pantry provides more space for food and for the volunteers who staff it. Plus, its location next door to senior-living facility Meridian offers opportunities for TCAA both to serve more seniors in need and to welcome more senior volunteers. In addition, a new partnership between TCAA and Tumbleweed includes sharing space for Tumbleweed case management staff at TCAA's new site. Youth experiencing homelessness can access shelter and wrap around support in Tempe through this partnership.
"We are excited about our increased ability to serve more area residents who are struggling to meet their basic need for nutritious food and stable housing," notes Deborah Arteaga, TCAA executive director. "We're also deeply grateful for the way so many volunteers and donors have stepped up to make this transition successful."
Bethel Development, Inc. built the facility for TCAA through a tax credit agreement with the City of Tempe. The building was developed for TCAA at no cost to the agency. Edward Jones outfitted the new food pantry and provided volunteers to stock it. "That's just one example of how it really does take a village to help our neighbors in need," said Arteaga.
"Tempe Community Action Agency is an organization that takes ACTION and it is one of profound activism, historically and currently," says Jenny Norton, whose mother helped found TCAA more than 50 years ago. "Never have I witnessed so many wonderful activists, including Tempe's citizens, accomplishing wondrous goals here."
In addition to this location, TCAA continues to operate senior meal and activity programs through three area multigenerational centers, and manages the Escalante and Clark Park Community Gardens. In addition, its Health Start pre- and post-natal services operate out of the Escalante Community Center.
"TCAA is an integral part of our city, helping alleviate hunger and poverty for thousands of seniors, adults and children each year. The City of Tempe is fortunate to have a community partner like TCAA that has such a positive impact on so many peoples' lives," said City of Tempe Mayor Mark Mitchell.
TCAA offers supportive services to individuals and families striving for greater economic stability and self-sufficiency. We help those who are struggling to obtain adequate food and shelter, as well as seniors and disabled adults working to attain their highest level of independence. Acting with financial support from the community we serve, TCAA operates a food pantry, three senior centers, aging programs, the Tempe Interfaith Homeless Emergency Lodging Program (I-HELP), pre- and post-natal services, two community gardens, and other projects and programs that serve our most vulnerable residents. For more information about programs, please visit our services page.