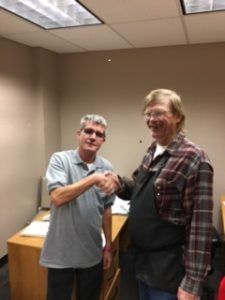 Ronald came to the I-HELP Shelter Program in May 2015. Prior to arriving at I-HELP, he had been living in Paulden, AZ working alongside a rancher. Ronald was a hired Ranch hand-rustling cattle, fixing fences, irrigation, and basic maintenance issues as needed. He was able to live on the ranch while he worked there. Unfortunately his employment opportunity ended and he was left with no place to go.
So, he headed to the valley to look for a job. What remaining money he had, he used for food and hotel and motel rooms for approximately two months. With no money coming in, Ronald eventually became homeless, living on the streets.
He had heard about I-HELP from the 211 Information Line. Once in I-HELP, Ronald quickly engaged in Case Management services. While he had most of his Vital Documents with him, Ronald had no health insurance or SNAP Benefits. He was also stuck in a situation where his brother had forged his identity to acquire DES benefits. I-HELP staff supported him in working through this legal process, assisting him with an appeal process, and court dates/appearances/phone interviews, etc. in order to help him secure his own benefits. He also had a physical disability, as a result of being previously shot in the forearm. This was complicating Ronald's ability to secure employment. TCAA's Case Management staff was able to get him qualified through the Vocational Rehabilitation Program and he was soon enrolled in FOCUS which provided on-site work skills, computer training, typing, customer service skills, all while being paid an hourly wage.
When he finished the program, he continued with I-HELP services and obtained a job coach. All the while, Ronald volunteered 5 days a week in the Food Pantry. In Aug. 2016, Ronald successfully secured employment through ARAMARK services located at ASU Tempe campus. He obtained health benefits and began saving for a place to live. By Dec. 2016, he had moved into his own place and no longer needed our assistance.
While Ronald was in the I-HELP program, he volunteered more than 40 hours a week in the TCAA Food Pantry. He continues to volunteer in the Food Pantry whenever his schedule permits.