Feeding the need among older adults in Tempe and Scottsdale
TCAA offers congregate lunchtime meals at  Tempe and South Scottsdale Senior Centers including the Escalante Senior Center, North Tempe Multigenerational Center, and Granite Reef Senior Center.
For seniors and adults with disabilities who are homebound TCAA offers a Home-Delivered Meal service complete with a daily safety check.
All combined, these meal services benefit more than 830 older adults each year.  Our senior meal programs ensure that the aging adult population at risk for food insecurity can receive nutritious food and the company of others. For those who wish to travel to the senior centers, TCAA offers transportation services between the participants' homes and senior center site to access the meal program and other center-based services. 
Click here for more details on our full range of programs designed to foster senior independence. 
Senior Center Congregate Meals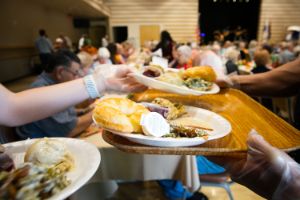 Granite Reef Senior Center Congregate Meal Program
Light breakfasts and congregate lunchtime meals are served at the Senior Center sites operated by TCAA. The congregate meal service offers nutritional food and the company of others, benefiting older adults, adults with disabilities, and their guests. Menus are posted to assist clients in planning their visits to the center(s) to enjoy their favorite noon meals with new or long-time friends. To access the lunch program, please register at least one day in advance by contacting TCAA's Meal Reservations Line at 480-858-6511.
Need help with transportation to the Senior Center lunch program? Call 480-858-6511 for transportation assistance.
Home-Delivered Meals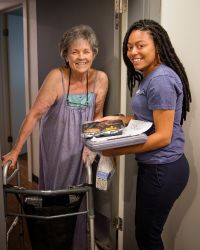 Home-Delivered Meal Service
TCAA's home-delivered meal service provides home-bound seniors and adults with disabilities the comfort and security of a hot, nutritious meal and a daily well-being visit with a dedicated TCAA staff or volunteer.  Home-delivered meals are for those individuals who are home-bound and have limited ability to access or prepare meals on their own due to recovery from illness or a long-term/chronic condition.  Meal delivery is available Monday through Friday depending on the verified level of need.  Nutritious home-delivered meal services are available to qualified residents in the Tempe and South Scottsdale areas.
To see if you or your loved one qualifies for financial assistance for home-delivered meals, contact the Area Agency on  Aging's 24-hour Senior Help Line at Tel. 602-264-4357.  
For those who do not qualify for financial assistance, call TCAA at (480)858-6510 to inquire about private pay options for the home-delivered meal service. 
Home-delivered meals are available to enrolled residents living in the following areas:
Tempe 85280; 85281; 85282; 85283; 85284; 85285; 85287
Scottsdale 85250; 85251; 85253; 85257
Back to Senior Independence Overview.