STRENGTHENING FINANCIAL STABILITY
TCAA's Financial Success Center offers an array of career and financial empowerment services that help individuals continually develop effective money habits and strengthen overall financial security. With one-in-five Tempe residents experiencing poverty, the need has never been greater for workforce development and financial empowerment activities. We help provide a roadmap for individuals and families to strengthen their economic stability with respect to a meaningful career path.
Visit the Financial Success Center (FSC) to help source and maintain gainful employment related to your career goals, strengthen knowledge around important financial decisions, help create additional housing security, and begin to build and develop assets. Our primary goal within the FSC is to share knowledge and tools that help families to thrive rather than simply survive through a crisis period--and increase the likelihood of lessening the recurrence of financial difficulties.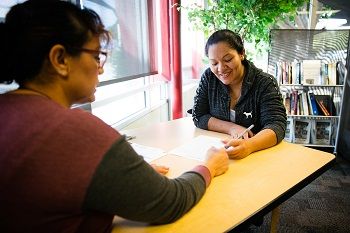 We offer comprehensive services that, when bundled together, are more effective in improving economic self-sufficiency:  
Income supports, such as enrollment into SNAP and medical insurance, access to financial assistance for housing or utility emergency needs, food boxes, and transportation resources
Employment assistance, including job leads, résumé building, and job search development 
Financial coaching, including financial education, budgeting skills, and linkages to credit counseling and homebuyer education through our partners
Program orientations are offered on a regular basis. Contact TCAA to learn more.
Financial Success Center Information
Hours:
By appointment or walk-in, Monday-Friday, 8 AM-5 PM. Should you require additional accommodations, please reach out via the information provided.  
Esquer and Ramsey Center, 2146 E. Apache Blvd, Tempe, AZ 85281
Tel: (480) 422-8922 ext. 5875
---
EMPLOYER ENGAGEMENT
Area employers play a key role in providing stability and upward mobility for job seekers. TCAA partners with various employers and community leaders to help enhance their workforce needs. Our Financial Success Center offers interviewing space and fruitful introductions of job-ready individuals to assist employers in meeting workforce requirements. Some areas employers have found value in the past are through the following;
Pre-screening and candidate referral
Onsite interviewing space
Hiring events
Regarding any assistance with your workforce development initiatives, contact TCAA's Financial Success Center Manager.