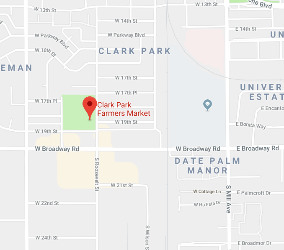 The Clark Park Community Garden is a collaborative effort of the Clark Park Marilyn Ann Neighborhood Associations and Tempe Community Action Agency. Created in 2014, the garden occupies what was once a municipal pool. Our mission is to grow plants and community roots by providing access to healthy, locally-grown food while enhancing neighborhood relationships. Clark Park Community Garden promotes and provides environmental sustainability and land stewardship, educational and social opportunities, and healthy supplemental food sources for its gardeners and those in need of food.
Three Saturdays a month, there is a CSA produce pick up for those that register, providing our neighbors with locally grown produce and supporting small farms in the area. The garden includes community growing areas and 27 raised boxes available for rent to the community. These community spaces include fruit trees, dedicated boxes for volunteers, and two native desert gardens. 
Clark Park Garden hosts a community workday on the 1st and 3rd Saturday morning of each month from 8-11 AM.  Other volunteer work events are scheduled as needed.  Anyone with an interest in working at a community garden is encouraged to come and participate, at 1730 South Roosevelt, Tempe AZ, 85281.
To learn more about our community gardens, please contact us at info@tempeaction.org.
Need a Space to Garden?
Whether you are dealing with a shady backyard, a home with no place to garden or you need more room to grow, a community garden rental plot can help solve these problems. Additionally, rental plots add the value of community-building as gardeners from around the community come to one place to grow, share stories, and learn more about each other and gardening. The Clark Park Community Garden site includes:
27 raised beds
access to water
a picnic table and access to shade for rest and work space
ample parking
access to bathroom facilities