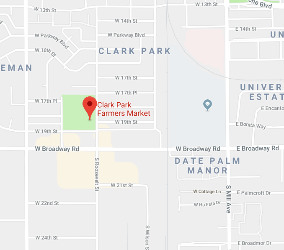 The Clark Park Community Garden is a collaborative effort of the Clark Park and Marilyn Ann Neighborhood Associations, and Tempe Community Action Agency. The garden was created in 2014 at the site of a former municipal pool.  Our mission is to plant and grow roots in our community to not only improve and reestablish "our" neighborhood park but also to provide access to healthy locally grown food and to enhance our relationships in the neighborhood. The Clark Park Community Garden promotes and provides environmental sustainability and land stewardship, educational and social opportunities, and healthy supplemental food sources for its gardeners and those in need of food. The garden includes community growing areas as well as fruit trees and 27 raised boxes available for rent to the community.  Two aquaponics gardens, an aeroponic Tower Garden growing system and a Xeric garden are also housed within the community garden.
Clark Park Garden hosts a community work day on the 1st Saturday morning of each month.  Other volunteer work events are scheduled as needed.  Anyone with an interest in working at a community garden are encouraged to come and participate. 
To receive information on volunteer work events, click here to sign up for  Clark Park Garden email notifications.
Need a Space to Garden?
Whether you are dealing with a shady backyard, a home with no place to garden or you need more room to grow, a community garden rental plot can help solve these problems. Additionally, rental plots add the value of community-building as gardeners from around the community come to one place to grow, share stories, and learn more about each other and gardening. The Clark Park Community Garden site includes:
27 raised beds
access to water
a picnic table and access to shade for rest and work space
ample parking
access to bathroom facilities
Interested in renting a garden plot? Click here for details.