Your donation of critically needed items allows TCAA to redirect funding from these operational costs to direct client services.
Critical Needs
Laundry pads for the I-HELP Shelter laundry trailer
Hand Sanitizer **
Backpacks, notepads, pens, socks, granola bars, and pencils for I-HELP Oasis Resource Center
Infant formula for the Food Pantry
New car seats for infants and toddlers
Baby shower or newborn gift basket items
Lunch meal gift cards (e.g., Subway, McDonalds, etc.) for shelter clients who are employed
Senior Food Box Needs
Soups
Canned fruits
Canned vegetables
Canned meals
Cereal
Jello
Pudding
Instant rice
Pasta
Sauce
Cookies
Crackers
Eggs
Canned meats
Tuna
Peanut butter
Jelly
Margarine
Powdered milk
Ramen
JIffy muffin mix
Honey
Bread
Bakery treats
Juices
Fresh fruits
Fresh vegetables
Bagels only if they are soft
TCAA meal box needs for individuals experiencing homelessness, sheltered at Tempe's Rodeway Inn.
Microwaveable items can be:
Campbell's soup (in bowl)
Mac and cheese (in bowl)
Oatmeal
Soup in a cup
Popcorn
Chili (in bowl)
Non-microwaveable foods:
Granola bars
Water
Chips
Crackers
Fruit cups
Fruit bars
Candy
Beef jerky
Juice (i.e. Capri sun)
Nuts and nut butters
Other: 
$10 gift cards for our unsheltered population to get a quick meal/refreshing drink or even light groceries
Ongoing Wish List Items
Food Pantry:
Ziplock bags (gallon size)
High protein items (canned meats, peanut butter, tuna, low sugar protein bars)
Canned fruit
Ready to eat items that do not require refrigeration, utensils, or cooking
Dried/canned beans
Canned and boxed soups
Boxed meals
Dried fruit
100% juice
Canned vegetables
Oatmeal
Rice
Granola bars
Snack Items
Pasta
Mac and Cheese
Multigrain crackers
Hygiene Items:
Disposable razors
Deodorant (roll-on or stick)
Baby wipes (hard containers)
Diapers (Infant through size 5)
Toothbrushes (adult & kids)
Toothpaste (travel size)
Toilet paper
Body lotion (adult & baby)
Liquid body soap (adult & baby)
Hand soap
Shampoo/Conditioner (travel size)
Foot powder
Feminine hygiene products
Hairbrushes
Combs
Hand sanitizer 
Floss
Sunscreen
Chap stick
Other Program Needs:
Gardening supplies (including soil to fill in garden beds)
Tarps for the community gardens
Yeti Coolers for storage and delivery of cold food items for home-bound clients
Hot food storage delivery bags for home-delivered meals
---
AMAZONSMILE WISH LIST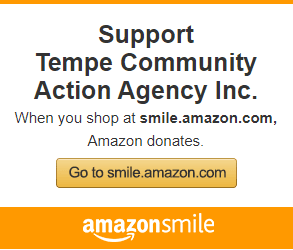 AmazonSmile Foundation will donate 0.5% of the purchase price of eligible products to TCAA.
With the increased focus on protective measures, please consider donating items from our Amazon wish list.
Current urgent needs include:
plastic gloves size medium and large
disinfecting wipes and spray cleaners
paper towels
diapers -  infant and toddler sizes
baby wipes
cases of bottled water
feminine hygiene products
Donations are being accepted at the TCAA Norton and Ramsey Center, 2146 E. Apache Blvd, Tempe AZ 85281 during normal business hours.
Please refer to the Amazon wish list for other items and quantities needed.
---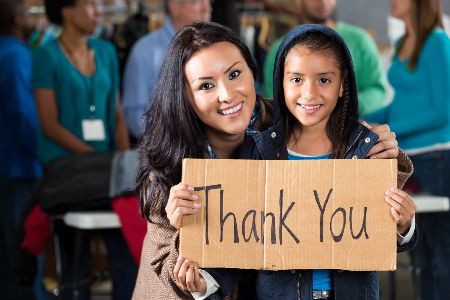 Drop-off Timeframes and Location
Drop-Off Hours:
Between 9 AM and 4 PM Monday through Friday
Location:
TCAA, 2146 E. Apache Blvd, Tempe, AZ 85281